Our Walton and Guildford hairdressers are always looking at ways to make your hair look at its optimum! Our stylists find that most hair problems can be summed up into two key categories. The first is a dry flaky scalp, often irritated, itchy and sensitive. The other common problem is dry or damaged hair. If you're one of the many people suffering with either of these issues, it's wise to take your haircare routine up a notch. Even the best shampoo and conditioner aren't enough to help heal and repair your locks, which is why we recommend booking a bespoke Aveda hair therapy or scalp treatment. Luckily the Aveda Botanical Repair Hair Treatment and the Pramasana Scalp Treatment are here to cure all your hair woes!
The Botanical repair hair treatments and Pramasana Aveda scalp remedy that are now available are literally game changers. Years of scientific research combined with the latest technology in hair have amounted to products and treatments that completely eradicate common hair and scalp complaints.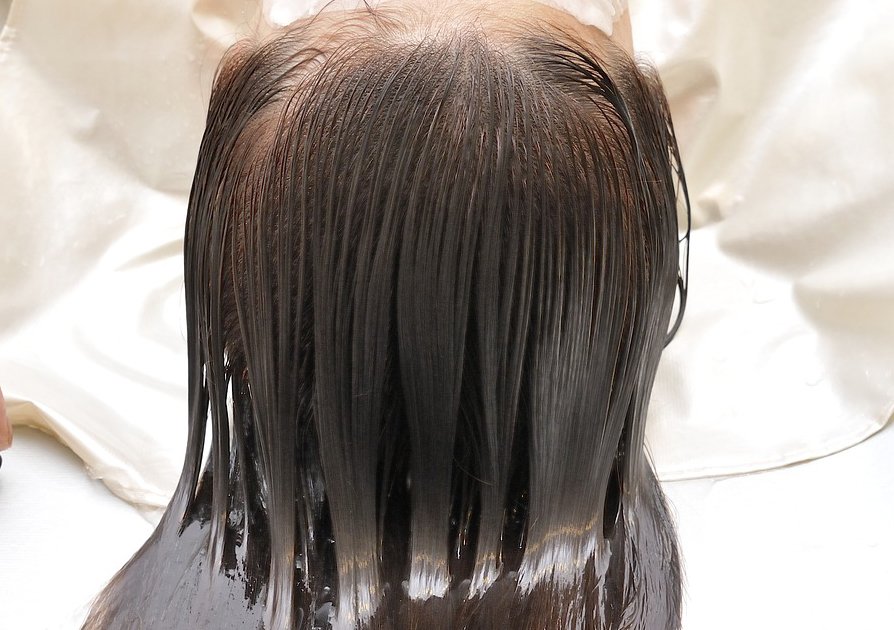 For hair with genuine health and shine, Aveda hair products have evolved to two key product ranges.
So which impressive in-salon professional scalp and hair treatment options from Aveda hair treatment or scalp therapy will bring your crowning glory back to its full potential?
Dry Scalp Treatment
What we do know is that healthy hair begins at the root. If you have a dry itchy scalp, then your hair will reflect that too.
Scalp conditions like dandruff, itching and sore patches can be managed by treating the scalp to a soothing Aveda scalp treatment to help tackle the root causes of scalp health. This could be things like product build up, dry skin, blocked pores and excessive sebum production.
The professional Pramasana scalp treatment is specifically for guests suffering with dry itchy scalp problems and we have seen heads completely transformed with rebalanced scalp health! Ultimately we see better results from hair too. Participants of this unique Aveda treatment report that this is the best dry scalp treatment they have tried. Results include a calmer, soothed and healthier scalp with no flaking or soreness.
(NB: There are a number of scalp problems such as psoriasis that may need medical help. We always advise that you speak to your doctor first.)
The Professional Pramasana Scalp Treatment
The Pramasana is a customised scalp treatment for anyone with a scalp that feels sore, oily, dry, itchy or flaky.
Based on the ancient art of Ayurveda, the Pramasana scalp treatment includes a ritual of exfoliation, scalp cleansing, a rejuvenating double wash and a deeply relaxing head massage.
A beautifully cooling Pramasana masque is applied to nourish the scalp, which feels refreshingly cold and ultra-soothing. For an itchy scalp treatment, this is the perfect remedy.
To protect and include the hair, a conditioning spray from the damage remedy range is also used, to give the hair a boost of moisture and intensive hair repair.
To finish, a specifically formulated Pramasana protective scalp concentrated serum is rubbed into the head. From root to tips, the whole head is left rebalanced, healthy and improved shine and appearance of the hair.
What Happens in the Pramasana Scalp Treatment?
Here's a step by step guide of what you can expect on your visit to the Aveda hair salon for a Pramasana scalp treatment:
SCALP ASSESSEMENT
You will first be given a scalp assessment and asked about your main concerns. Your hair will be parted, giving your stylist the opportunity to see where the main problems lie – whether you're scalp is itchy, dry, oily, sore or irritated.
SCALP BRUSHING
A scalp brush will be applied to your scalp using a medium pressure rotary movement. Your whole head and nape of neck will be gently exfoliated to remove any loose dry skin
SCALP CLEANSING
Next, you'll be taken over to a basin, where your hair will be made wet and you'll have the Pramasana purifying scalp cleanser applied and distributed evenly across your whole scalp. A gentle massage will ensure the product is fully penetrating the skin.
DOUBLE HAIR WASH
Your hair will then be thoroughly washed twice with a high performance Aveda shampoo that's appropriate for your hair type. Aveda ingredients are always plant based, making them suitable for sensitive skin.
SCALP MASSAGE
From hairline to ears to the nape of your neck, your hair and scalp will be massaged to encourage fresh blood flow to your scalp and entice you into full relaxation.
SCALP MASQUE
Your head will be wrapped in a towel before you're taken to a station for the rest of your Pramasana scalp treatment. The Pramasana nourishing scalp masque is then applied to the whole scalp and roots using a brush applicator.
HAIR TREATMENT
The hair will be separated into 3 inch sections and sprayed with either damage remedy or dry remedy treatment spray depending on your personal needs. The entire hair will be saturated, before your head is wrapped in a clean dry towel for 10 minutes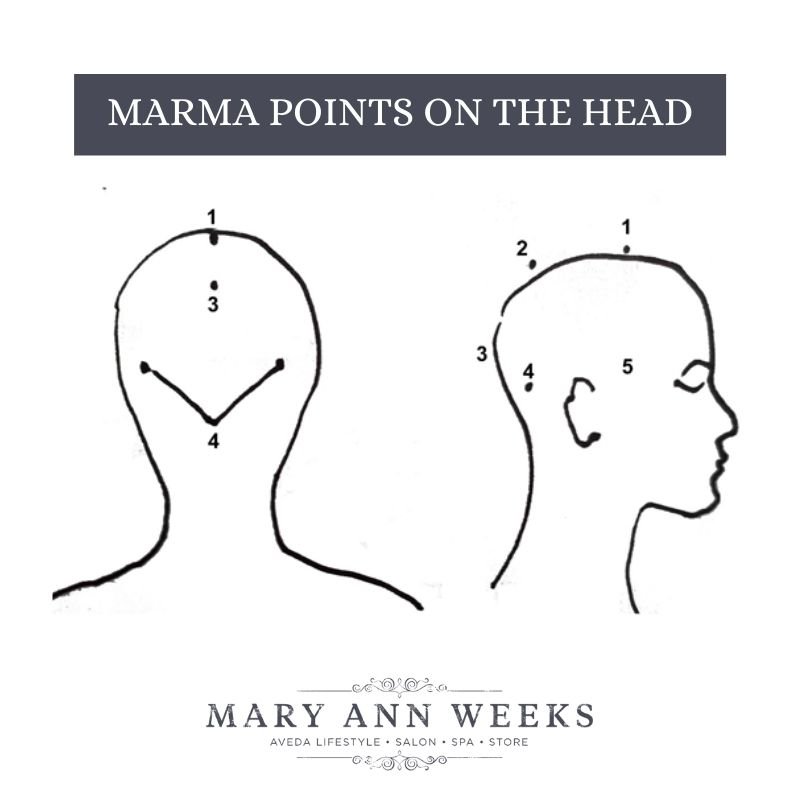 SCALP & MARMA POINTS MASSAGE
Finally, you'll enjoy another gentle scalp massage using circular friction motions. Using marma points, gentle pressure is applied to stimulate and release tension and blocked energy. The entire scalp will be treated to pinch like motions using the stylists fingers and thumbs to enliven and awaken the head.
Want to know more about Marma Points? Learn more
RINSE
Hair is rinsed, towel dried and combed through

SCALP PROTECTION
The Pramasana protective scalp concentrate is evenly applied to damp scalp with a dropper applicator.
Notes; this treatment is unsuitable for pregnant women and does not include a blow dry. It is possible to book the Pramasana as a standalone treatment or as an add on to a haircut or colour.
SCALP CARE AT HOME
For ongoing scalp care at home, you can purchase the Pramasana product range, either instore at Mary Ann Weeks Aveda Guildford or Walton or by purchasing online.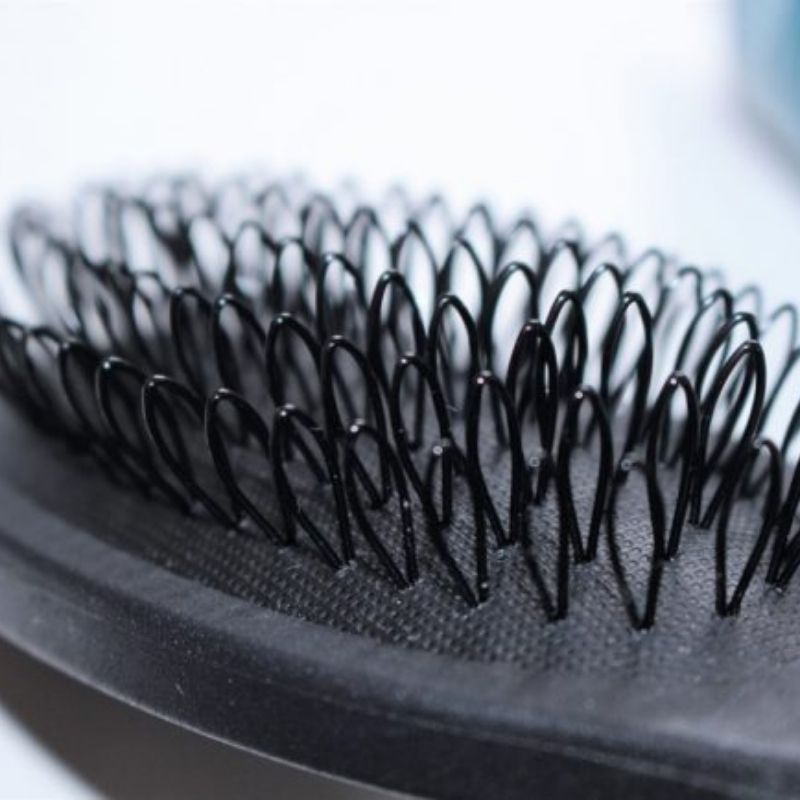 Pramasana Exfoliating Scalp Brush
Scalp brushing is an excellent way to begin the cleansing process of your scalp because it physically loosens and removes the dead skin cells and product build up that accumulates on the surface of the scalp. Circulation is a key part of a healthy scalp, and the pramasana exfoliating brush is perfect as massaging with its looped bristles, meaning you can successfully massage without tangling the hair.
Pramasana Purifying Scalp Cleanser
The Pramasana purifying scalp cleanser is for the scalp – Not the hair.
Rebalance sebum levels with seaweed extract, whilst you remove debris with wintergreen derived salicylic acid for exfoliation. Tamanu oil is a known anti-oxidant which protects the scalp from pollutants. Additional protection comes in the form of lactobacillus, which is a patented ferment to boost the scalps natural protective barrier.
Pramasana Protective Scalp Concentrate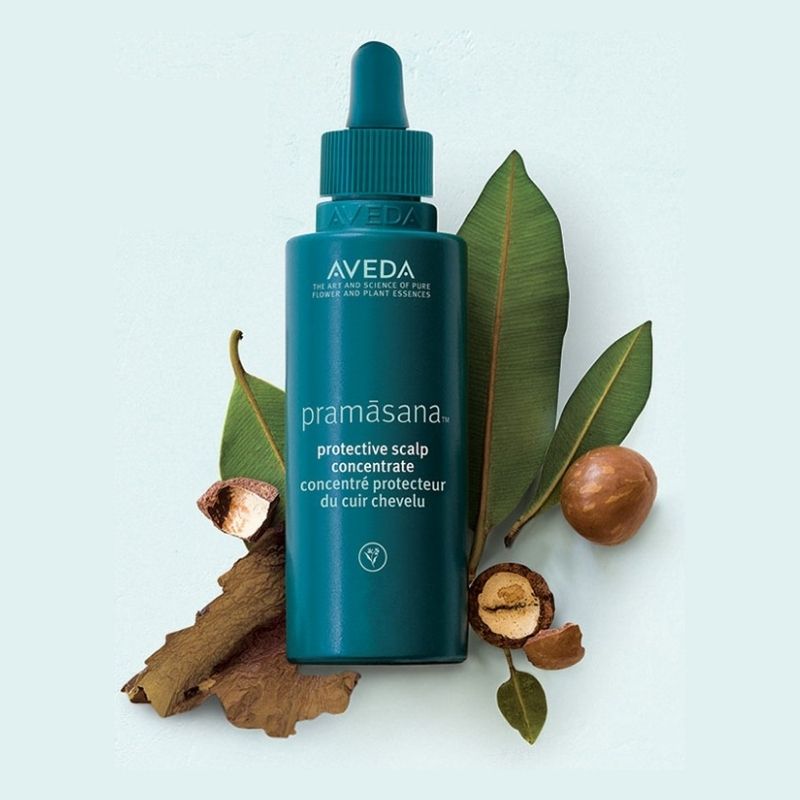 Pramasana Protective Scalp Concentrate
This nourishing serum aids natural protection in the top layers of the scalp and is lightweight enough to leave in. It generally works best when used alongside the Pramasana range, starting with the scalp brush and after the Pramasana scalp cleanse.
Apply as drops to sectioned damp hair, starting at the front of the head and working your way back. Massage thoroughly in and leave.
Dry Damaged Hair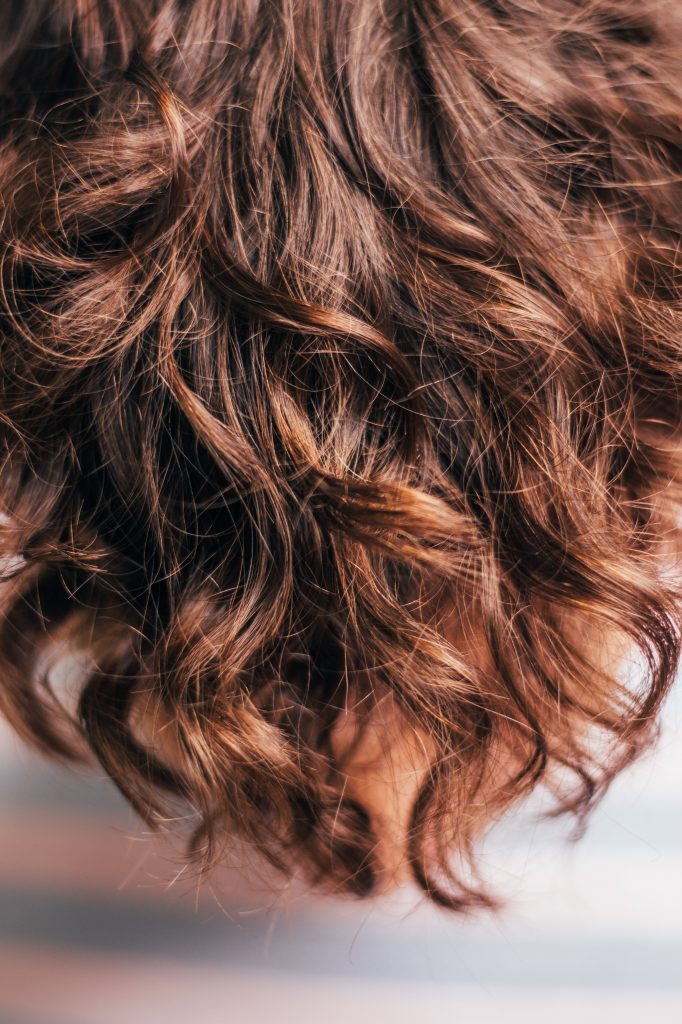 Although dry and damaged hair are often paired together, they have quite different impacts on the appearance and health of your hair.
If your hair is dry, it can easily end up with split ends, breakage and looking dehydrated with no shine or slip. Frizzy wiry hair seems to react badly to changes in seasons.
But that said, in a lot of ways dry hair is easier to deal with and treat.
Some people have the idea that lathering on half a bottle of conditioner and hoping for the best might help, but all this does is weigh the hair down, completely mess up the hairs natural balance and generally make hair appear dull.
For dry hair, it's a good idea to use an Aveda deep conditioning treatment each week that you leave in dry hair treatment, as well as a monthly masque to really rehydrate it.
Great Aveda products for dry hair are Sap Moss (using water retention for weightless rehydration) or Nutriplenish (using oils to rehydrate and smooth).
On the other hand, if your hair is damaged, you need to look at repairing the hair and that can be much more difficult.
Damaged hair happens because of a number of different factors:
Physical Damage
Brushing
Detangling
Extention
Traction styling
Heat Damage
Blow drying
Flat-ironing
Curling
Chemical Damage
Colouring
Bleaching
Perming
Relaxing
Keratin straightening
Environmental Damage
UV Exposure
Humidity
Hard Water
Learn this simple trick to see if your hair is dry or damaged
Tending to chronically dry hair and replenishing moisture is one thing. Fixing the hair shaft from the inside and out is quite another.
Luckily, Aveda haircare has advanced considerably for damaged hair.
Whereas Aveda Damage Remedy was the staple 'go to' for damaged hair for many years (and did a fine job at it!), Aveda have surpassed all expectations with their new Aveda Botanical Repair range.
That's why here at our Walton Hairdresser, the Mary Ann Weeks salon team have been recommending Botanical Repair to anyone who'll listen.
Tending to chronically dry hair and replenishing moisture is one thing. Fixing the hair shaft from the inside and out is quite another. That's what makes this particular Aveda hair product quite revolutionary.
The Botanical Repair Professional Hair Treatment is exactly what you need if your hair is damaged.
Although there are several Botanical Repair products you can take home to use yourself, we highly recommend the Professional Grade Botanical Hair Repair Treatment. As the name suggests, the Botanical Repair professional products used are more concentrated and technologically advanced and you cannot buy them. To really get the incredible results and renewed hair that you're looking for, the in salon treatment is the way to go first.
The Botanical Repair Professional Hair Treatment
The number one benefit of the Botanical Repair treatments the level of repair you get. This Aveda intensive restructuring treatment specifically strengthens and repairs the three key layers of hair from the surface to the core.
3 Layer Hair Repair Technology:
Cortex Layer
Key ingredients for the cortex layer of the hair is corn-derived sugar, which acts as a plant-powered bond multiplying molecule.
The benefit of this is to REPAIR hair, by creating bonds in the cortex and strengthening and repairing hair from within.
Cuticle Layer
A nourishing macro green blend includes certified organic avocado, green tea and sacha inchi seed oils. This is to PREVENT breakage by smoothing the hair cuticle for easy detangling.
F-Layer
The outermost layer of the hair is treated to a plant-based complex including corn and coconut. This technology will PROTECT hair, because it mimics the benefits of the hairs outermost F-layer. Hair is shielded from humidity and water that can make hair more fragile
The Botanical Repair Professional Treatment is instant. Dry damaged hair is actually made stronger – rather than just being coated in a formula which washes away.
The Professional Botanical Repair Professional range includes:
Botanical Repair Equalizing Primer
Botanical Repair Hair Strengthening Additive
Botanical Repair Bond Activator: Light (for fine hair)
Botanical Repair Bond Activator: Rich (for thick or coarse hair)
Just a single treatment repairs damage caused by brushing, colouring, blow drying, UV rays and hair products, making it 5x stronger. Hair is visibly healthier, shinier – naturally full of life.
The treatment takes just 10-15 minutes and you can choose between the standalone Botanical Repair Treatment or the Botanical Repair Colour Treatment.
Botanical Repair Treatment (Stand-alone) in Steps:
Hair is shampooed with Botanical Repair Strengthening Shampoo to fully cleanse
Additional strengthening is achieved by spraying 8 pumps of Botanical Repair Professional Hair Strengthening Additive throughout the hair and combing it through, coating and penetrating the hair shaft.
The Botanical Repair Professional Bond Activator applied evenly to hair. Note; the Rich formula contains 5 times the amount of natural oils and butters than the Light formula.
Leave for 10 minutes for the full effect before rinsing off
Botanical Repair Professional Colour Treatment in Steps:
Prime by misting hair with Botanical Repair Professional Equalizing Primer focusing on the mids and ends of the hair shaft
Mix 1 pump of the Botanical Repair Professional Hair Strengthening Additive into the hair colour formula (not does not work with Aveda Vibrants as this already has a similar technology in its formula).
Perform the usual hair colour service
Process rinse and shampoo with Botanical Repair Strengthening Shampoo
Finally, the Botanical Repair Bond Activator is evenly applied through the hair and processed for 10 minutes. Rinse.
A professional maintenance treatment should always be added on as part of your monthly haircare routine if you want healthy and stunning hair

– Paul Wilkinson, Director at Mary Ann Weeks Aveda
DAMAGED HAIR TREATMENT AT HOME
The Mary Ann Weeks Aveda team also recommend the retail Botanical Repair range to those interested in maintaining the results of the in salon Botanical Repair Hair Treatments at home.
The range is suitable for colour treated hair as well as being cruelty free and 100% vegan.
For long term Aveda hair remedy and full health and repair, the following products are available to buy in store at Mary Ann Weeks Aveda Walton or Guildford or online.
Botanical Repair Strengthening Shampoo
Botanical Repair Strengthening Shampoo
Strengthens & protect your damaged hair with Botanical Repair Shampoo. This silicone free shampoo will luxuriously clean, whilst gently removing excess sebum (oils), product build-up and pollution.
Botanical Repair Strengthening Conditioner
Botanical Repair Strengthening Conditioner
A conditioner that actively helps to prevent breakage by detangling instantly. Protect and strengthen from the inside out, improving the look and feel of damaged hair; with plant-derived technologies.
Botanical Repair Intensive Strengthening Masque: Light
Botanical Repair Intensive Strengthening Masque: Light
For instant improvement, this intensive but lightweight hair masque is a treatment to strengthen and protect your damaged hair, leaving it healthier, shiny and softer.
Suitable for fine to medium hair. Used monthly as a part of your hair care routine.
Botanical Repair Intensive Strengthening Masque: Rich
Botanical Repair Intensive Strengthening Masque: Rich
For instant improvement, this intensive and rich hair masque is a treatment to strengthen and protect your damaged hair, leaving it healthier, shiny and softer.
Suitable for thick or coarse hair, this hair masque conditions using 2 times the plant lipids with added plant butters. Used monthly as a part of your hair care routine.
Botanical Repair Intensive Strengthening Leave-in Treatment
Botanical Repair Intensive Strengthening Leave-in Treatment
Reduce frizz, detangle instantly and prevent future breakage with this silicone free leave-in formula. Hair will feel immediately stronger and will be protected against heat damage from appliances as well as from UV rays. Enjoy smoother, softer and shinier hair with minimal flyaways. Suitable for all hair types and textures and colour safe.
This leave-in treatment instantly strengthens and helps protect damaged hair from the inside out. Reduces frizz & detangles to help prevent breakage and protects against heat up to 230°, safeguarding against damage caused during blow-drying & heat styling
See what's so special about Botanical Repair
Book your next hair appointment with us now and feel how amazing your hair can be!
Call 01483 306655 for Guildford or 01932 240856 for Walton