Have you ever considered that your lipstick colour should change with the seasons and your hair colour?
Your skin lightens and darkens with the summer and winter and so might your hair! Often we feel compelled to compliment the season, changing our hair colour from enriching reds for Autumn, plum tones for Winter or blonde highlights in Summer.
With all these different looks, it stands to reason that your lipstick shade needs to adapt too!
Luckily, Aveda have lipstick shades for every situation and every person! Customised in a range for all, with the more traditional lipstick and pencil, lip gloss for those who prefer a more subtle finish and now our new colour balm for the all day long colour that holds.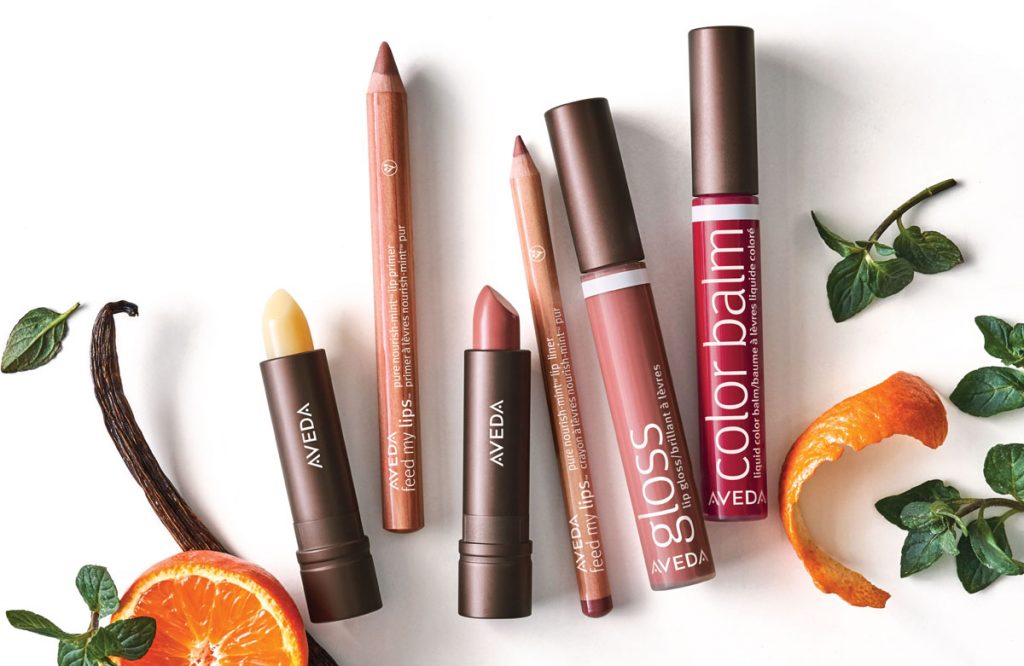 How Do I Know What Type My Skin Tone is?
A very cool way to see what your skin tone is, is to look at your veins. Seriously! If you turn your arm and look at the underside, you'll have either greenish or blue veins. Green means you have warm undertones to your skin and blue means you have cool undertones!
What About My Hair Colour?
You know when someone turns up with a new hair colour and it just doesn't seem to work for them? Usually this is because they haven't taken their skin tone into consideration before choosing the shade. (Of course, there's always those lucky individuals who seem to be able to wear any colour at any time to prove us wrong!)
By and large – like with clothes – if you stick to the colours for hair and makeup that work with your skin tone, you're likely to find the match and that's where the magic happens!
If your hair is in warmer shades, then you'll find orange tones for your lips work beautifully. For cooler hair tones, blue based colours work best.
It's worth noting that during winter when you're missing that natural sun kissed glow, you might need to compensate with some colour!
Feel free to ask one of our Walton or Guildford Aveda hairdressers to identify which tone your hair is if you're not sure!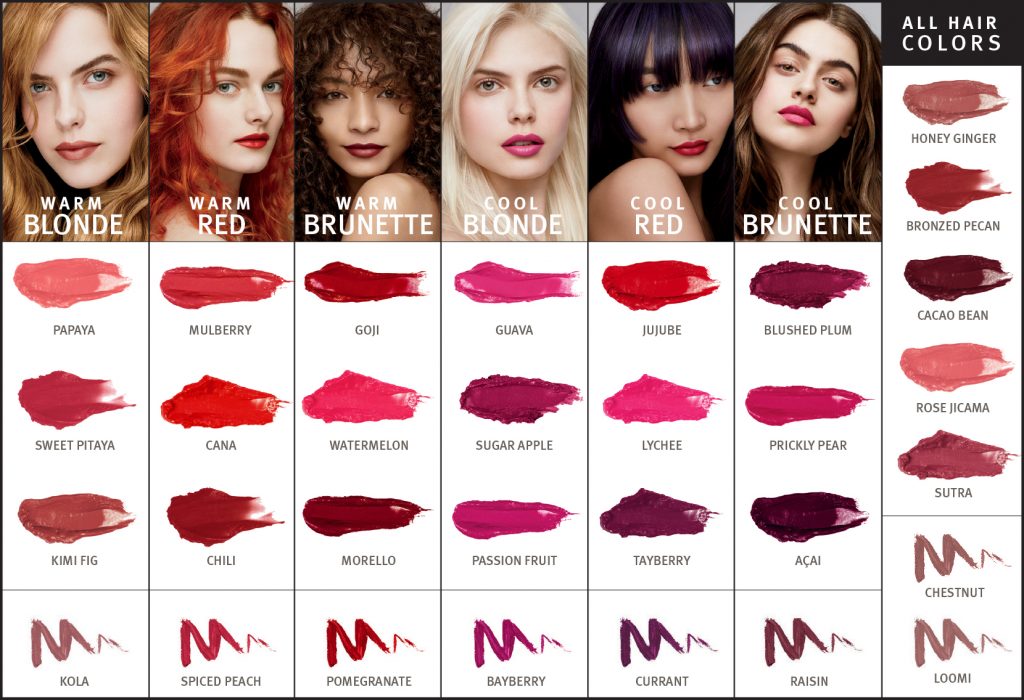 Once you've identified your hair tone, make up follows! Depending on your outfit, mood or occasion, Aveda have a lip-shade that will boost your confidence and have people telling you how great you look!
Go Neutral or Nude
For Those Days Where You're Not Feeling Like Making a Bold Statement, neutral and nudes are best. As you can see from the right hand column on the handy chart above, Aveda have designed tones to go with almost every hair shade and skin tone in easy to wear neutral shades. Neutrals and nudes are the way forward if you're looking for a subtle day wear. Honey ginger is a particular favourite 'mid' tone shade that almost everyone can get away with, whereas Cacao Bean and Bronzed Pecan are perfect for darker skin tones. Kimi Fig or Rose Jicama work better with lighter skin. These colours work all year round so are a staple for your make up bag.
Extra Care for Lips in Winter
Organic cupuacu fruit butter and botanical oils ensure that lips are protected against the elements, leaving them feeling soft and smooth all day. The Nourish-mint rehydrating lip glaze is so moisturising and gives plenty of shine for a plumper fuller pout. Always use the Feed my Lips primer as a base to keep the colour for longer.
For Spring 2020
Cool tones should try Sugar Apple – it's a beautiful damson, whose happy colour is great to transition from the cold months to spring.
Warm toned people should head for Sweet Pitaya for that little kick of cheery colour to send you into the freshness of spring.
Don't forget, lip liners can be added under a gloss or a lipstick. There are plenty of neutral shades to play with and combinations that will take you from earth mother to sleek sophistication or vamp goddess to party queen in no time! Experimenting is key!
Our professional Aveda Spa therapists and hairdressers are keen to make sure you leave the salon and spa feeling on top of the world. Ask for your FREE finishing touch as you leave, which includes a lip colour service with excellent advice on which Aveda lip colour to choose as well as tips on application. Drop in to our Walton or Guildford Aveda store soon and let us get you looking your beautiful best!