If you've never tried Aveda cooling oil, you've been missing out! This little gem is perfect for all number of things and is a firm favourite here at Mary Ann Weeks Aveda Guildford and Walton. This oil refreshes and awakens the senses and is a dab hand at instantly relieving tension in many stressful situations, including long journeys and flights!
That's why we're nominating Cooling Oil as the top product to take away on holidays with you this year!
Like all Aveda products, the cooling oil is naturally derived – 100% in this case, with main ingredients including peppermint, blue chamomile and menthol.
For away days and holidays, the cooling oil comes in a small size with added metal rollerball for ease of application which means it's perfect for your handbag or pocket. A little goes a long way so it's great value for money too.
So How Do I Use It?
Seriously diverse and very clever, cooling oil can be used in a number of ways, not least of all for travel and holidays…. Here's some options:
Soothe your senses by massaging the oil into your temples using clockwise circular motions
If you get anxiety when flying, rub the oil between your hands and breathe in the aroma to a count of four—then slowly exhale to a count of six. Repeat to help calm the nerves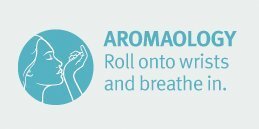 Apply it to your wrists and breathe in the cooling and refreshing aroma, then pinch and massage the pressure point—traditionally known to relieve headaches—between your thumb and index finger.
The shoulder typically carry a lot of tension. Simply massage away into any area that feels tight
Use the roller ball to massage the pressure points on either side of the base of the skull. Then rub the oil into the back of your neck, massaging wherever you feel tension
Release tense and tired muscles after a workout by massaging the oil in at leisure
As well as foot baths, you can also massage the oil into the soles of your feet before bedtime. Then kneed your heels with your knuckles. Works wonders for tired feet.
Of course you can always use it lounging by the pool or on the beach to cool your skin down too! Next time you're in Guildford or Walton for your hairdresser appointment or visiting our luxury spas, why not ask if you can sample our cool oil – our friendly stylists and therapists will gladly show you where it is.