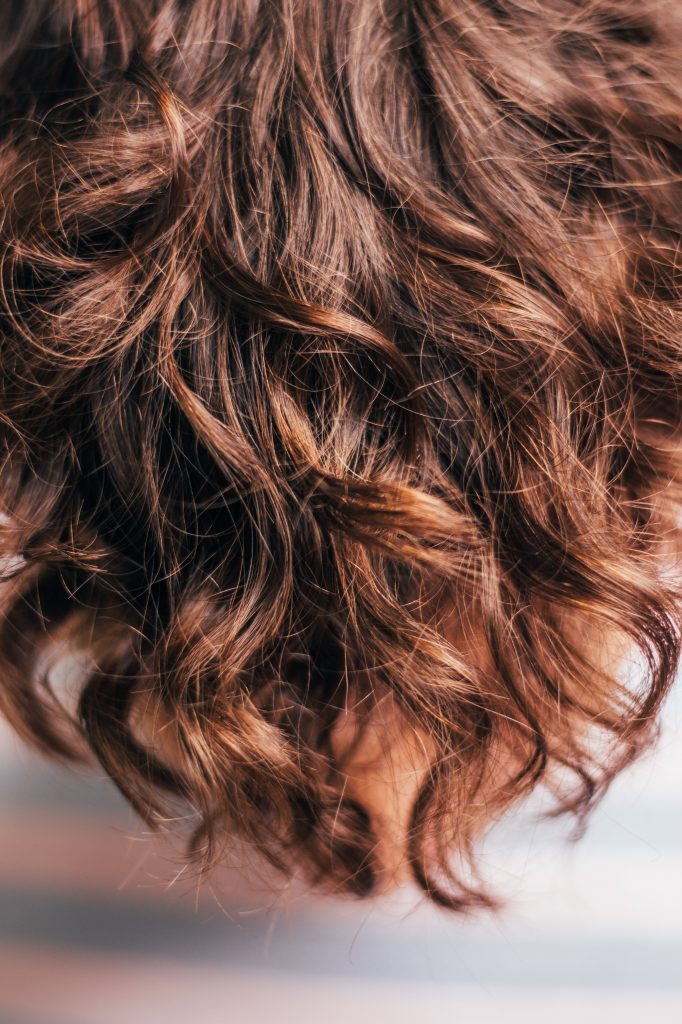 How many times have you inspected your hair and pulled that face of dismay because it isn't sitting how you want? It looks dry and brittle and there's this one annoying bit that's just decided to stick out in a totally different direction, or there's frizz going on in the weirdest of places like the crown of your head?
The amount of hair products, heat and environmental damage we inflict on our locks means it no real surprise that we end up with damaged hair. Or is it damaged? Aveda hairdressers suggests that in fact, dry hair can be deceptively similar to damaged hair. Unfortunately, however common, neither is a great look.
So How Do You Tell the Difference Between Dry & Damaged Hair?
If you're confused about whether your hair is dry, damaged or even both then our Walton and Guildford Aveda stylists can help!
Obviously looking at your hair for physical signs of damage is a good start. Split ends and uneven hair length through breakage (try standing with a bright light behind your head) are pretty easy to spot. But to really tell the difference between dry and damaged hair, a great hairdressers tip is to take a single strand of wet hair from you head straight after your shower or bath.
Gently pull the hair at both ends and see how stretchy it is. If it's able to expand by around a third and then returns to it's original length, then you know your hair is healthy. If there is no give at all, then you have damage problems. Your hair needs a protein boost and some serious TLC. Or, if the hair stretches but then doesn't return to it's original size, then your hair is dry and needs some quenching and quick!
What To Do If Your Hair is Damaged
Because your hair is primarily made of protein, your best bet is to head for products enriched with ingredients that contain exactly that.
Aveda made their Damage Remedy range bursting with quinoa, exactly because it's got a high protein content and our talented scientists understand that that's what damaged hair needs most. The range includes:
Damage Remedy Restructuring Shampoo will gently cleanse, whilst protecting against damage caused by heat and environment.
Damage Remedy Restructuring Conditioner reduces further breakage by detangling, using plant based conditioning oils that leave hair silky and smooth again.
Damage Remedy Split End Repair is a leave in treatment that instantly works by sealing the hair back together using nangai oil. Hair fibres are smoothed and sealed and repair lasts all the way to your next wash.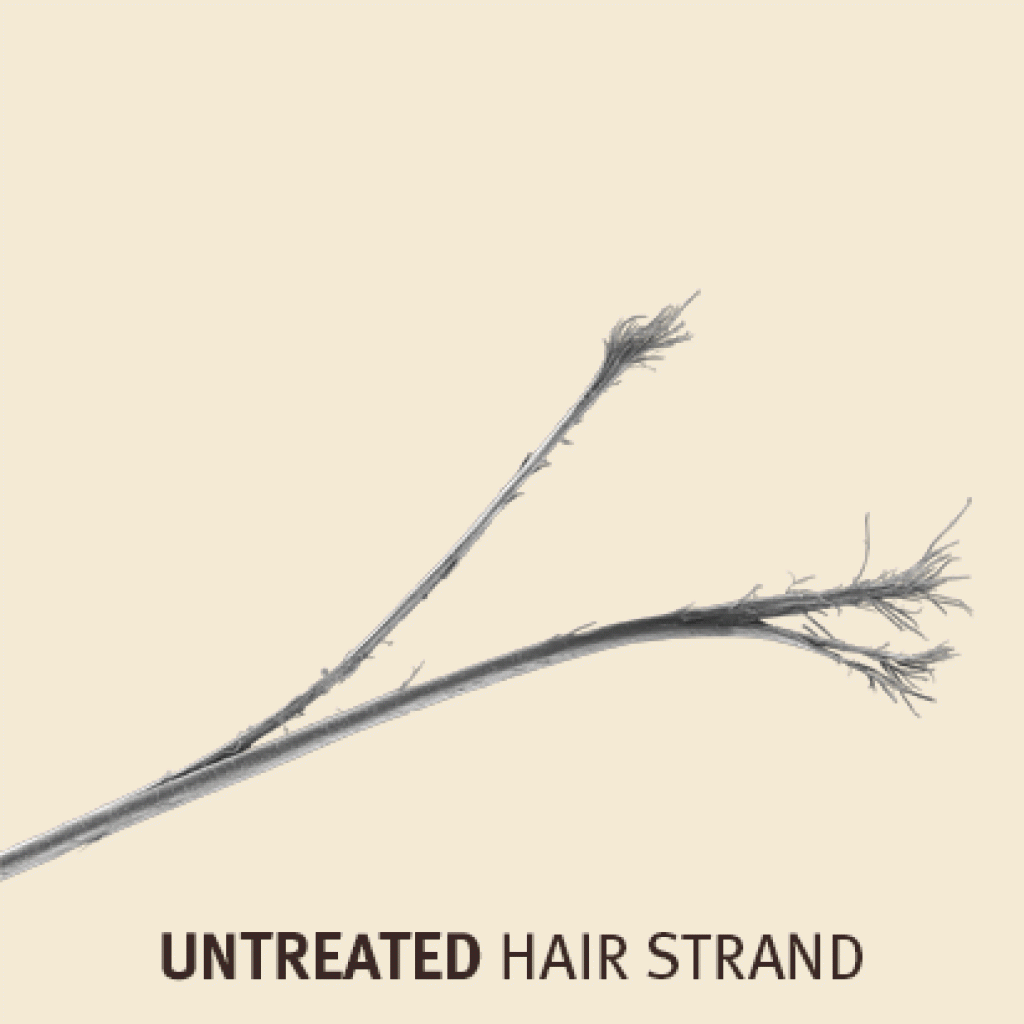 Damage Remedy Daily Hair Repair is all about protection. Applied every day before styling, this best selling leave in treatment protects your hair from the damage that hair straighteners and curling tongs do.
Damage Remedy Intensive Restructuring Treatment is a weekly mask for your hair. Leave it on after shampooing for just 5 minutes to seal in moisture and restore shine.
What To Do If Your Hair is Dry
Dry hair by comparison is pretty easy to deal with, especially after the launch of two amazing new products from Aveda HQ! Both of these options are all about hydration and both are currently flying off the shelves!
Sap Moss – Weightless Hydration Using Water
Sap Moss arrived in our Walton and Guildford hairdressers back in October and we've been loving it ever since. Unique inspiration for this old/new returning legend comes from Larch tree sap extract and Icelandic Moss. In nature, the larch tree sap seals in moisture, helping the tree to survive harsh winters. The Icelandic moss is able to absorb twice it's weight in water which keep it fresh and hydrated. Kukui and coconut condition and Jasmine notes add to the earthy aroma thats specific to Sap Moss.
If you have frizzy, moderately dry or even brittle hair, sap moss will bring you the weighless hydration you're after. For all hair types PLUS it's colour safe.
Nutriplenish – Rehydrate Hair With Superfood Oils
The New Nutriplenish Range has hit the ground running since launching at Mary Ann Weeks Aveda Walton & Guildford in January! Our guests are reporting their hair is intensely hydrated, and their hair feels replenished. The collection contains rich omega-5 from organic pomegranate oil, coconut oil and mango. Hair is visibly healthy and lush.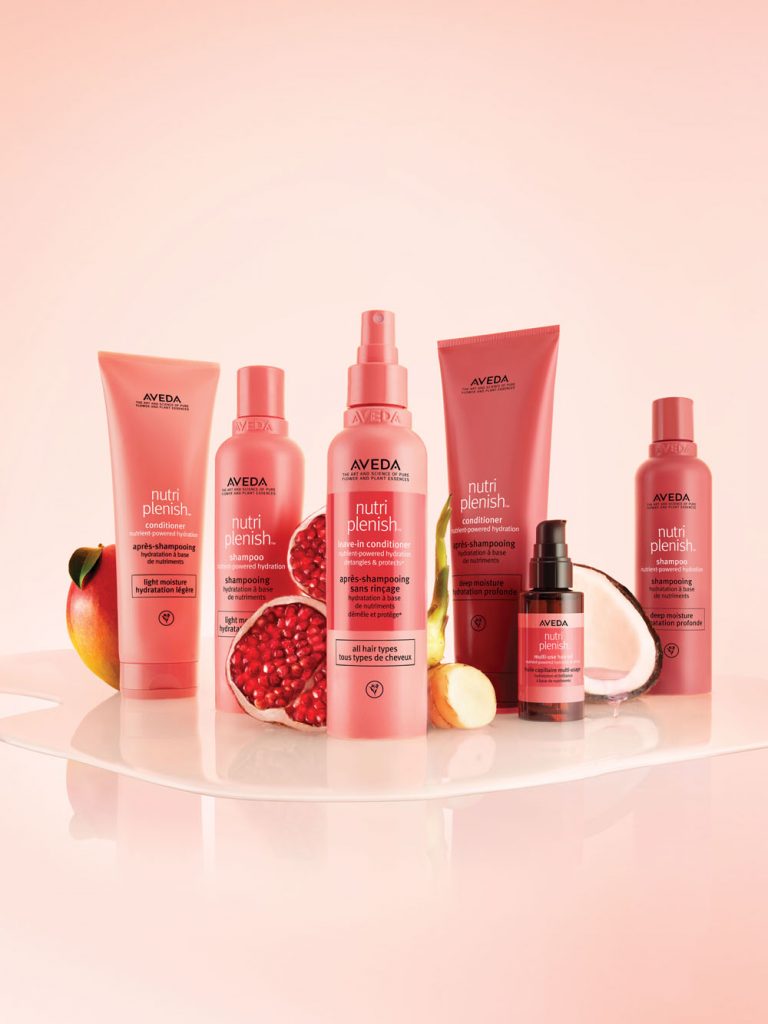 For fine hair, the 'Light Moisture' Nutriplenish has fast absorbing oils and for those with curly, wiry or thick hair there's 'Deep Moisture'. Ask one of our super stylists in the Walton Salon or Guildford venues which is right for you if you're unsure.
Final Hairdresser Tip!
Having your hair regularly cut with our Walton or Guildford Hairdressers means you will avoid damage as much as possible and really give your hair the best chance of looking it's beautiful best. We recommend a visit to the salon to see one of our expert stylists at least every 6 weeks.
You can also call 01932 240856 for Walton or 01483 306655 for Guildford for colour appointments. And finally, whenever you can, try and let your hair dry naturally and wear a hat in the sunshine! If you can, use Aveda Sun care protective hair veil which sprays over your hair like a mist and gives UV protection against harsh rays.