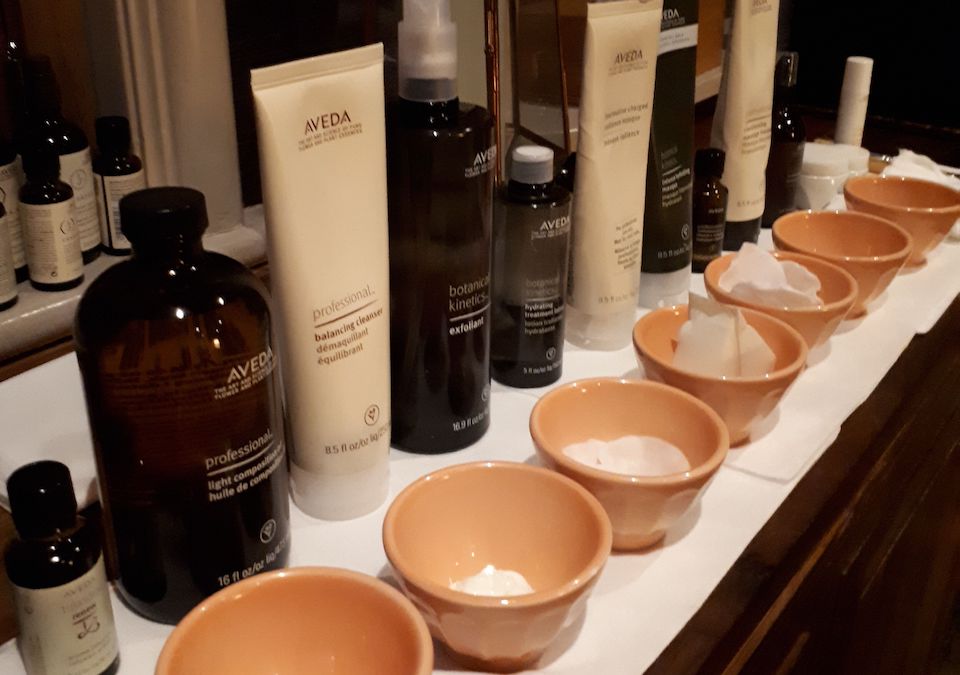 Treatments for fine lines get a little more 'necessary' as you get older and I am delighted to say I have found the essential facial in Guildford. What's especially appealing about this particular spa treatment is that it uses a combination of massage techniques and natural based products that are suitable for all skin types whilst enhancing your beauty.
Believe it or not at nearly aged 40 I've only had one facial in my life. Despite not really being sure about what to expect, it didn't take me long to decide to have another one when senior Aveda beauty therapist Veronika invited me to try out the new facial on the block.
'The Tulasāra Dry/Ageing/Uneven Skin Tone Facial Treatment' is admittedly a bit of a mouthful. That said, it almost deserves its title when considering the epiphany of layers of different products. These Aveda magic ingredients are designed to 'retrain' skin into optimum healing and renewal, whilst hydrating every pore.
Two key differences with this new version of the Tulasāra massage are the use of Aveda Professional™ products. That means you can't buy them off the shelf, much as you'd like to after this facial.
'The Aveda Vitamin C Complex' and the 'Transforming Massage Masque' work together to improve hydration, moisture levels in synch with reducing dry fine lines. Probably the most impressive thing about the transforming massage masque, is it's morphing ability from a rich emulsion to a butter and then to an oil. It's insanely nourishing and penetrative.
Veronika was well prepared on my arrival with a surprising number of little bowls, complete with cotton wool pads and the product line up. Being a kind of 'wash my face in the shower' and 'sleep in my minimal makeup' kind of girl, I had no idea you could use that much stuff in one sitting. I was about to get facially educated!
The treatment room is typical of Mary Ann Weeks style; luxurious, comfortable and warm with low lighting and soft soothing music. I began to think this was an exceptionally good idea of mine.
As I relaxed on the pre-warmed massage table, Veronika made sure I was comfortable and we began a pre-cleanse with Aveda composition oil. I then took three deep breaths as Veronika held her scented hands under my nose as I inhaled the relaxing aroma infusion. I began my sensory journey into relaxation.
My skin was cleansed all over using the Aveda balancing cleanser, rich and thick with a smooth consistency. To clean this away, bliss of all bliss, a hot wet towel was then folded gently over each side of my face, leaving a gap for my nose to breathe – as that gorgeous sensation sank in, the same still warm towel was then used to gently wipe up all traces of the cleanser revealing my now squeaky clean skin.
If this Facial had a Theme, it Would be 'Queen Massage Facial'
Did you know there are 43 muscles in the human face? Because this massage gets into one gets to every single one of those muscles. There are 5 (yes 5) different massage techniques used overall. This not only means that it feels utterly amazing and insanely relaxing, but it's working the microcirculation beneath the skin. This releases toxins and encourages collagen production (young skin stuff) and lymphatic drainage.
In between the massages, hot towel and cold press therapy, the Aveda products indulge and satisfy even the most awkward of skin types. The entire process leaves no stone unturned and takes you on a bliss filled journey with waves of sensory delight combined with its luxurious pampering. It's that good.
The 5 (yes 5!) Phases of Transformative Massage
Connective tissue release
Feels like very gentle pinching and gathering of the fleshy parts of your face and décolletage.. i.e. good. Softens and loosens the connective tissues, this massage uses two techniques that 'unbind' collagen and elastin fibre bundles, stimulating deeper down into the tissue structure
Swedish
Oh yes.. .Feels like a gentle kneading and plumping kind of action. Reducing tension and exercising the major muscular regions – improving circulation and skin nourishment
Lymphatic strokes
More please.. the motion moved from central face outwards and then downwards following the lymphatic pathways that are responsible for removing toxins from the blood stream. This was yet another layer of amazing sensation and felt uplifting and a bit like a cat when it's back is being stroked
Acupressure
Woah.. more pleasure? Temples, jawline, third eye and collarbones all being gently pressed.. now losing mind into depths of pleasurable sensation
Calming Nerves
This final stage is the relaxing and gentle pressing and holding the face, the neck and the upper chest.. it is deeply soothing and relaxing and the perfect finale to what is quite the sensory ride.
Afterwards not only did my mind feel totally calm and balanced, but my skin looked radiant, healthier and toned.. I felt relaxed for the rest of the day and my skin was nourished and glowing.
The Aveda Products Used
The products used throughout 'The Tulasāra Dry/Ageing/Uneven Skin Tone Facial Treatment' are many in number, but each with a specific separate purpose to benefit your skin. The skincare products mirror natures' immense capacity for nourishment, healing and balance, with the echo of Ayurvedic traditions woven into all things Aveda.
The same reassuring and reliable ethos is present here, as in with all Aveda products;
Cruelty free
Ethically sourced ingredients
Post- consumer recycled plastic packaging
Containing 97% plant based ingredients
The 'Aveda Hydrating Treatment Lotion' works like a welcome drink for the skin, helping to deeply hydrate to new depths. The 'Botanical Kinetics Exfoliant' follows to remove further debris and dead skin cells to encourage the new skin underneath to reveal itself. Further nourishment for the fresh skin, came in the blended form of the 'Botanical Kinetics Hydrating Masque' and 'Tourmaline Charged Radiance Masque', together creating a powerful and rich compliment. Again hot towels were used to magnify penetration and add the deliciously tingly element to the removal of each product once absorbed.
The 'Aveda Professional Vitamin C Complex' came next, which as aforementioned is one of the crucial highlights of this facial. Vitamin C is normally found in high concentrations in the skin and supports important and well known functions, not least of all to stimulate collagen synthesis and assist anti-oxidant protection against UV damage. In the facial, it is massaged deeply into my skin using a particular technique with the fingers.
Next comes the pinnacle of the transformative part of this massage, in the form of the 'Aveda Professional Transforming Massage Masque'. It performs beautifully, melting with the massage techniques from masque to butter to oil, which then gradually sinks into my skin and feels frankly wonderful.
Once the oil has absorbed, the recovery serum is applied to protect the base layer of my now completely nourished and revived skin. 'Tulasāra Wedding Masque renew moisturiser' and 'Tulasāra Wedding Masque Eye Cream' complete the process as a barrier from the elements.
So there we have it – I got to try out the best facial ever and my verdict? BOOK IT!
This facial is an amazing treat and one that I'm assured by Veronika just benefits the skin even more with every use. If you want to spoil someone else, this is the ideal 'experience' gift too.
BOOK ONLINE HERE or Call us on 01483 306655 or Walton 01932 240856 
OR (!) To spoil a loved one – BOOK A GIFT VOUCHER