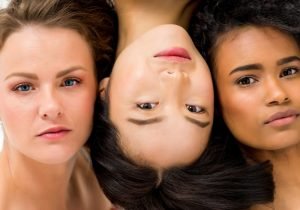 Thanks to Covid, so many of us have missed the simple pleasure of a visit to the hairdressers. You may even have begun to think about a brand new look to symbolise your new found freedom post lockdown. But how do we know what hair style is best for our face shape? When we match face to hairstyle properly, our face is beautifully framed, there is just the right volume and somehow everything is balanced beautifully. Much like when you wear the right colour top for your skin tones, you suddenly find yourself on the receiving end of lots of compliments and you'll feel like you've been made over by a celebrity hairstylist!
What Makes a Hairstyle Work with a Face Shape?
Hair is such an important part of the way we present ourselves to the world so why do some styles look so well and others just don't?
The secret to finding the right haircut for your face shape is to use your hair to emphasise key features like eyes and bone structure. To find a style that brings balance back into your face whilst softening and hiding harsher angles or imbalances.
Different hairstyles absolutely can change your face. A professional hairdresser absolutely can make it appear longer, reduce a wide forehead, soften a square jaw, or frame a face to make it look daintier. Equally you can showcase your best features by drawing the focus towards a particular part of your face. As Mary Ann Weeks owner and Guildford Hairdresser, Mary Ann says:
"Getting the right haircut for your face shape is about learning what works and what doesn't. For that, it's important to recognise when you've been stuck in a 'hair rut' you should be confident to try out new things."
Face shape is a major factor in finding out the right hairstyle for you, but it's not the only thing to think about.
Your hairs texture will also dictate whether a style works for you. Your body type and even your lifestyle also play a part too. For instance, there's no point in having a really high maintenance hairstyle that requires perfect precision if you're walking dogs on a windy hill or spending your life down the gym!
How Do I Know My Face Shape?
Look carefully at the models shown and observe their face shapes… Read the descriptions further down and see if you recognise any of those in your own face. The differences are subtle in some cases, but are generally enough to make a distinction. Now find a mirror and study your own face. See if there are any stand out features, such as your jaw, forehead or chin. You might then be able to place your face into a particular shape category.
What if I'm Still Not Sure What My Face Shape is?
If you can't tell by looking in a mirror what shape you are, then don't worry. It could just means your face shape is more general and so have a read through and take whatever tips from that seem to resonate.
Most of the advice given here is for women who have strong facial shapes that they want to tone down or play up. Consider what features you most want to enhance and how to achieve that with your hairstyle.
Once you've established your face shape, then note the texture of your hair too. If you have really fine hair or extreme curls, factor that in and choose the haircut that will work for your hair texture as well. For instance, if you have really tight curls, a blunt fringe isn't going to work.
Read more about our curly hair specialist cuts and treatment here
Here's our basic face shape guide, along with the best haircut and style recommendations for each shape, as well as our stylist's advice on some great Aveda products to help you achieve your look.
What's the Best Hairstyle for my Face Shape?
Oval Face Shapes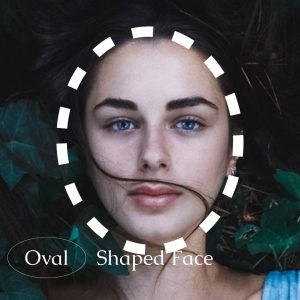 Apparently if you have an oval face, you can consider yourself lucky, because this face shape suits nearly every hairstyle! Defined by its lack of any real 'corners' and the equidistance of forehead and jaw, (where the jaw is only just a smidge narrower than the forehead), the best hairstyle for oval face shape is really whatever you want it to be!
Since you can get away with almost anything hair-wise, texture is a great thing to consider when thinking about best hairstyles for oval face shape. Being bold means you can match to your lifestyle, personality and wardrobe to really take it to the next level.
Shoulder lengths with classic waves and layered haircut for oval face gives volume around your face that will frame it perfectly. Blunt bobs and lobs with subtle layers are also great for the same reason.
Long waves or curls, pixies to shags, super long locks to short, funky styles, side and centre partings…all are obtainable for hair for oval face shape. There really is no best haircut for oval face – your only real mission is to stop any haircut for oval face from altering its perfect shape! Be a little careful about making your oval look longer and knocking the balance out so try not to add too much height in the form of updos. Likewise, heavy fringes aren't a great fit as a haircut for oval face shape because they shorten the face.
——————————————————————————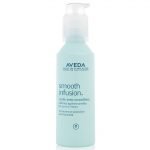 Smooth Infusion Style Prep style prep creates a gorgeous smooth surface on the hair that not only helps to make styling easier, but will protect against heat styling and defend against humidity for up to 12 hours at a time. Aveda Smooth infusion contains a plant based blend of organic aloe, maize and guar bean which works with every hair type to make it looks shiny, luscious and frizz free.
——————————————————————————
Square Face Shapes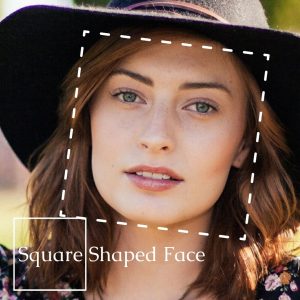 A broad forehead, wide cheekbones and a strong jawline are all features of a square shaped face. The good news about square faces are that they look fantastic in photographs, because the angular jaw and defined cheeks mean a 3-dimensional picture giving photographs depth and shade.
Another major bonus is that those with square faces age better because their skin tends to 'hang' better along their jaw allowing them to avoid the dreaded waddle throat.
The best hairstyles for square face shape are generally shoulder length or shorter. Both longer and shorter haircuts for square face shape can be made more flattering by adding side fringes or layers to soften out harsh edges.
The best haircut for square face shape when trying to soften out the angular features, are side partings to help offset the square. For cropped lengths go for a short layered bob but add that side-fringe to bring the eyes towards the cheekbones rather than the jawline.
Some of the best haircuts of square face shape involve using the strong jawline to your advantage. A blunt fringe with a short bob can create a really striking look. Another idea for a fringe and square shaped faces is to ask your stylist to cut it so either side end at the cheekbones, bringing the focal point away from the jaw.
Talking of fringes, if you have a square face and want to go for long hair, try layering around the face from low down in order to try to add length to your face.
Generally speaking the best short haircut for square face requires an experienced stylist who can use the hair in a way which softens the face shape. Slicked back hair and super thick fringes can look overly harsh, so be sure you can carry it off!
Heart Shaped Faces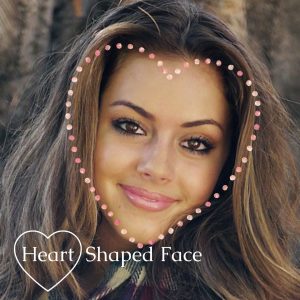 A wider forehead with a sweet pointed chin and softer jawline make up the typical heart shaped face.
Because the face shape is slightly longer and those with heart shaped faces often have gorgeous cheekbones, the good news is that there are lots of styles to suit a heart shaped face.
Some of the best haircut for heart shaped face is where volume is added to the sides. Much like the rectangular face, this technique helps to even out the width and frame the face, so if you have wavy or curly hair grow it a little longer and you can't go wrong.
For high hairlines and a wider forehead, a fringe can be a really good idea, as it shortens the face and draws attention to the eyes.
If you prefer to have your hair short, a pixie haircut for heart shaped face is a nice option, but avoid having too much lift on the top, as this just elongates the face.
The best haircut for a heart shaped face usually involves working in one of two ways. The first is highlighting the whole face shape by having hair styles that pull the hair completely off the face, so any ponytail, bun or updo works beautifully. The second way is to add width to the bottom of the face around the jaw to rebalance Generally speaking, shoulder length hair works really well as the medium haircut for heart shaped face, for instant volume at the bottom. A saucer bob or lob is the perfect haircut for heart shaped face.
A big no no for heart shaped faces is to have a middle parting, as thanks to the hairline, this tends to give 'twin peaks' either side of the parting line (think Morticia Adams). Short fringes also tend to make the forehead look even wider and the chin smaller so that's also not great for heart shapers.
Diamond Face Shapes
A diamond face is defined by its angles. Diamond faces have a matching width forehead and jawline and the widest point of the face is the cheekbones and a narrow chin, so it's pretty striking.
There's no real need to try to balance out the cheekbones since they are usually pretty gorgeous! Instead the best hairstyles for diamond face shape exaggerate the natural angles.
Mid or layered haircuts with shaggy waves and long side swept fringes look great. A chin length bob will help to widen the appearance of the jaw. Heavy and horizontal fringes tend to shorten the face so these aren't the best haircut for diamond face shape people because it makes the chin look even smaller.
——————————————————————————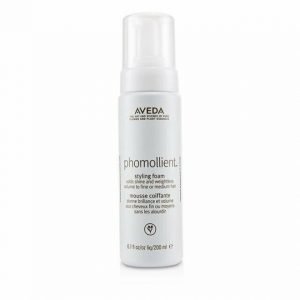 Use a good pre-styling product such as Aveda's Phomolient Styling Foam to achieve lift at the root of the hair. Phomolient gives weightless body and hold to find to medium hair and is 90% naturally derived
——————————————————————————
For short styles, the best haircuts for diamond shaped face shape can be super cute crops with tousled tops and graduated from the neck upwards for height. Partings work well in the centre as well as off to the side with diamond shapes and tucking the hair behind one ear is also a great trick.
If you have long hair, then try a simple pony tail to really highlight those enviable cheekbones and widen the forehead, creating symmetry in the face. Adding volume around the top of the head also helps to add balance.
Round Face Shapes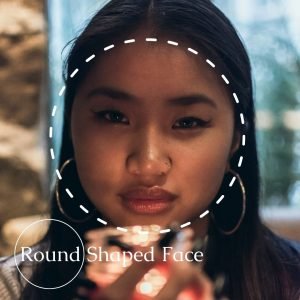 When you think of a haircut for round face women, you might assume the best option to go for will be long hair to balance out the roundness. It's true that the most flattering hairstyles for round faces work to lengthen it out a little, but actually with round faces, you can get away with most styles. It's all about working more cleverly with textures and angles to frame your face in the right way to get the length.
Pixie haircut for round face ladies tend to look fabulous when paired with an asymmetrical fringe (swept bangs). This way, you'll create an illusion of more height in the forehead. Aim for plenty of volume on top to elongate and balance out round faces.
For nights out and special events, hairstyles for round face shape with longer hair, go for sweeping updos that add height on top of the head, which again adds that all important length to your face.
Try to steer clear of chin length bobs, which tend to add more width. Instead, aim for a 'Lob' or 'Saucer bob' where layers around the face start as low as the collar bones and work their way up, framing the face beautifully, whilst softening the sides of the face shape.
For long hair on round faces, go for plenty of layers that create movement and shape. Hair below the chin is a good look for either curly or wavy hair because you'll get that wonderful bounce naturally.
——————————————————————————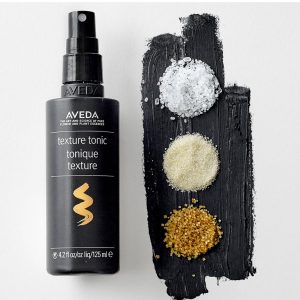 To add texture, our stylists recommend Aveda best seller, Texture Tonic. 94% plant based texture tonic contains cane sugar and salt that work harmoniously to create natural piecey definition. Gives a look of naturally tousled texture, effortlessly undone, but with a touchable surface and healthy shine.
——————————————————————————
Rectangular or Long Face Shape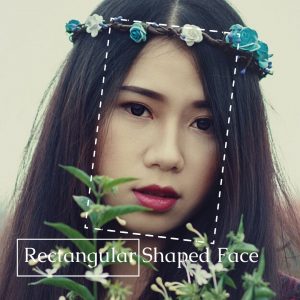 A long or rectangular face shape is basically an oval face but even longer and when thinking of a haircut for long face women, there are plenty of styles to feel confident about.
The best haircut for long face usually involves adding volume and body to the sides of the head in the form of waves and curls.
——————————————————————————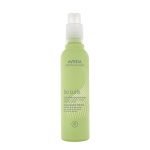 For curls and waves, we recommend 'Be Curly Curl Enhancing Spray' – a flexible hold hair spray which intensifies and locks in curls with all day control on frizz. Contains corn-derived conditioning elements to leave your hair touchable and soft, and wheat protein and organic aloe blend allows expansion when your hair is wet, and retraction when your hair is dry which will define your curl or wave
——————————————————————————
Fringe centred haircut for long face shape are a great idea because you're effectively 'shortening' the length of your face. Play with a long heavy fringe that will accentuate your eyes and give a focal point too.
Rectangular shaped faces work best with styles and cuts that soften out the sharpness of the jaw and forehead, to add a little roundness. Layers that frame the face work well to enhance cheekbones but cover the 'corners' of the face.
Overly long hair is a no-no for rectangulars because it can add even more length. If you do have longer hair, be sure to blow dry giving lots of horizontal volume to balance the angles. Soft romantic chignons worn low or to the side looks really beautiful whilst adding a little width and sleek styles that highlight the jaw can be extremely striking. For your fringe (if you choose one), think soft and round, so longer at the sides. Curtains are also good.
Some of the best hairstyles for long face shape are to add curls, which naturally give the impression of width. Using curling tongs and the right hair care products will help you open up your face, especially if you try to get the most width and volume at the cheek bones.
Anything that adds a lot of extra height won't be a suitable haircut for long face. This includes one length dead straight longer hair, which will emphasise the length in your face. Adding a top knot is not the best hairstyle for oblong face shape, whilst spikes or lots of volume on top also won't win you any prizes for best short haircut for long face shapers. Choose products to help give you the width to frame your face.
If you're looking for a haircut for small face and long neck, aim for shoulder length hair layered from the collarbones up and consider having a fringe cut to help balance out the face length. Adding some volume to the sides of the face is a good idea, but don't overdo it as this will make your face look even smaller.
Learn About Style Preps and How They Can Transform Your Hair
Remember, haircuts for face shapes are just suggestions, not cast iron rules – the secret to looking gorgeous is to be yourself, go with what makes you feel good and be confident with your individuality.
The good news is, although sometimes it's tricky to know where to begin, try to have fun with your hair and change your style to see what suits – after hair will grow back!
The Mary Ann Weeks Guildford and Walton hairdressers team are both trained and talented at all things hair. They can give you solid advice about what will look good for particular hair types and face shapes, so be confident to ask opinions. You might find they have fresh ideas you hadn't thought of which will transform your look!
If you haven't visited for a while or are a regular, make sure your next appointment with your favourite stylist is booked in now by calling 01483 306655 for our Guildford salon or 01932 240856 for Walton-Upon-Thames